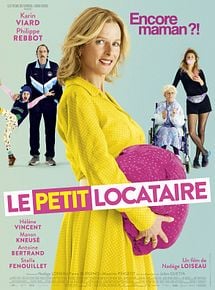 LIMITED SCREENINGS
Le Petit Loctaire
A bun in the Oven
Genre Comedy
By Nadège Loiseau
Release year 2016
With  Karin Viard, Philippe Rebbot, Hélène Vincent
Running time 1h40
Rating 18
Trailer: https://www.youtube.com/watch?v=M9-Gk7jHgY0&feature=youtu.be
Nicole is 49 years old. She is cashier at a highway toll, her husband is unemployed, her daughter is a young single mother and her own mother is more and more dependant. Nicole doesn't have any time for herself but she will have to find some, when she discovered she is pregnant… While the whole family is overwhelmed by the news, she sees it as a new beginning.
Nicole a 49 ans. Elle est employée à un péage d'autoroute, son mari est au chômage, sa fille est une jeune mère célibataire et sa propre mère devient de plus en plus dépendante. Nicole n'a pas une minute à elle. Mais tout cela va changer, la jour où elle apprend qu'elle est enceinte… Si sa famille est sans dessus dessous, Nicole, perçoit cette naissance comme un nouveau départ.
GSC Pavilion KL, 13 May Saturday 08.50PM
GSC 1 Utama, 14 May Sunday 08.20PM
GSC Mid Valley, 20 May Saturday 08.45PM
GSC Gurney Plaza, 2 June Friday 09.15PM